Charming villas for rent in Amalfi coast: Capri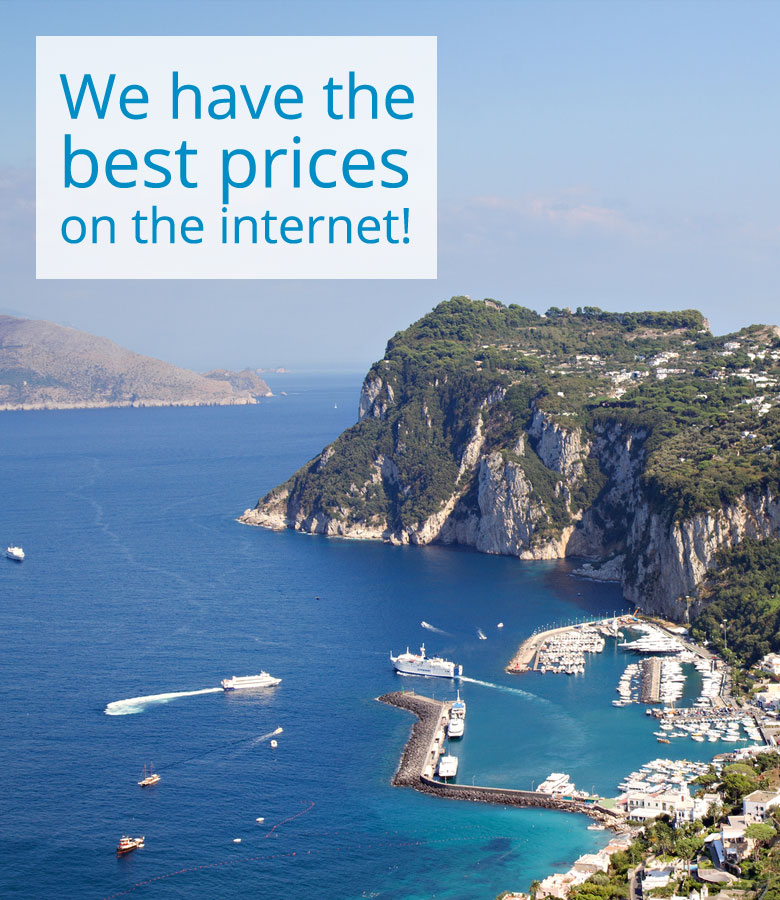 We have the best prices on the internet
If you find another website offering one of our properties at better price you'll get a 10% discount on your stay!
Capri rentals
Holiday rental aparments and villas
The town of Capri is one of the pearl of the Mediterranean Sea. It has the always been much loved, since ancient times. A lot time ago, it was connected to the mainland. If you decide to visit Campania and the Amalfi Coast, you can't lose this isle.
There are several plateaus, like the one with Anacapri, and four hamlets: Marina Grande, Marina Piccola, Capri e Anacapri.
The coasts are tall, jagged and full of natural caves, many of it are only accessible by sea, but the coasts and the caves are one of the highlights of the island. Flora and fauna are typical Mediterranean and there are protected animals, for example the lizard of the Faraglioni (called like this because they prefer to live on one of the Faraglioni)
The Faraglioni are the most beautiful highlights of Capri: great blocks of rocks in the sea, imposing front of the island. Both the Fraglioni an dthe Grotta Azzurra have always been celebrated by painters, artistis, writers and attract tourists all year round.
Worth a visit is certainly the "Grotta Azzurra", a sea cave called Blue Grotto because when the sunlight passing through an underwater cavity and shining thorough the seawater, creates a beautiful blue reflection that illuminates the cavern. It can be reached by motorboat from the port of Marina Grande, by bus from Anacapri or by taxi
The narrow avenues and paths of the isles give the opportunity to see breathtaking and unforgettable views. The ideal ambience for relaxing and enjoying the peace of the uncontaminated nature of Capri.
Tourists from all over the world can find a lot of accommodations for staying in this wonderful places. There are many hotels in Capri, from luxury hotels to cheaper ones. Not only hotels, but there are also bed and breakfast, hostels and residence.